Apr 17 2007
This list is used to be updated monthly. The next update will be when I can find the time.
Top 100 Australian Blogs 13th April 2009
Hint:- Click on a column heading to sort the list differently.
** Please see about the index for more information. This list of top Australian blogs was compiled by Meg Tsiamis, who maintains Dipping into the Blogpond and co-founded dLook and Aussie Bloggers.
This information is protected by the Copyright Act 1968. It may not be reproduced without consent.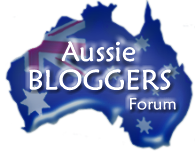 66 Responses to "Top 100 Australian Blogs Index"